2. Key Species - Animals
One of Australia's most endangered species the Orange Bellied Parrot is dependent on saltmarsh habitat for food during their winter visits to southern Australia.
There are now only around 200 birds remaining in the wild. Protection of remaining saltmarsh habitat is vital to prevent losing this beautiful bird to extinction.
These large snails live near the surface of the mud and actively seek out bivalves that are their prey. Using their scraping tongues moon snails drill holes in their prey and feed on the meat inside.
Many people will be familiar with their large horseshoe shaped jelly egg masses that sometimes appear on beaches in large numbers.
Capable of surviving out of the water when the tide recedes, barnacles are crustaceans that attach themselves to the roots of mangroves and other structures.
The shells of barnacles have two plate like valves that seal the animals inside. When covered by the tide valves are opened and the barnacles capture food using specialised feet that strain the water.
Often forming large "armies" that emerge from the mud as the tide recedes, soldier crabs are scavengers that feed on organic material that lies on the surface of the mud.
As they sift through the sediment leftover mud material is rolled in small balls that cover the mudflats. When disturbed or when the mud dries out the crabs spiral themselves downwards and await the next receding tide.
A popular species for recreational fishers mullet spend much of their time living in bays and estuaries and around mangroves. Adult mullet are largely scavengers feeding mainly on organic material whereas younger fish feed on plankton or small animals on the bottom. Many species of fish use mangrove habitats as nursery areas.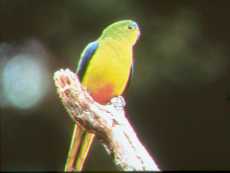 Orange Bellied Parrot (Neophema chrysogaster)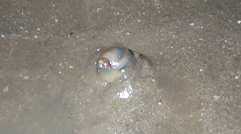 Moon Snail (Polinices sordidus)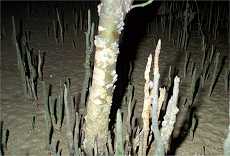 Barnacles (Elminius spp.)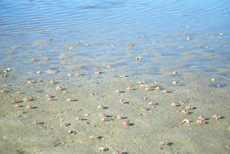 Soldier Crab (Myctyris platycheles)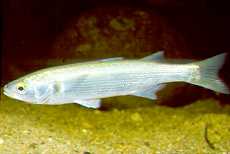 Yellow-Eye Mullet (Aldrichetta forsteri)