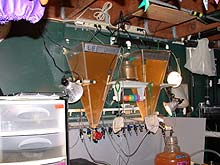 Both the Aquarium of the Pacific and
Cabrillo breed their own brine shrimp.
California and Florida Dreaming 2004

Harry Breidahl
Late in June 2004 MESA members Jane and Harry Breidahl fly off to the USA to meet up with MESA/MTAQ member Simone Baker for a 4 week study tour of California and Florida.
The idea of MESA study tours began in 1990 when John Tomkin (MESA president at the time) led a party of 23 members and associates on a tour of the west Coast of the USA. Since that time a number of MESA members have returned to the USA and California and Florida Dreaming 2004 is the latest study tour to follow John's original footsteps.