Sedentary Bristle worms feed on plankton and other bits of organic matter, including algae or pieces of dead organisms. Others like fireworms, are carnivores feeding on colonial animals eg: sponges and ascidians.
Most bristle worms are either male or female. They reproduce by releasing sperm and eggs into the water. Larvae metamorphose from a free-swimming stage to a segmented stage before maturing. A few bristle worm species take care of their young.
In Fireworms, the bristles have become defensive organs. They are fragile, hollow tubes filled with poison. They are easily broken when the worm is touched and the pain they cause when they pierce the skin makes their common name very appropriate.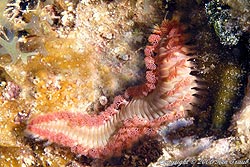 Fire worm
Image © Ken Traub Flickr