The Sipuncula or Peanut worms are a phylum containing around 300 species. They are bilaterally symmetrical, unsegmented worm-like animals ranging from 2 mm to 72 cm in length, with most species being under 10 centimetres. They are relatively common, living in shallow waters, either in burrows, in discarded shells or in a hole in solid rocks which they have bored out.
Their bodies are divided into an unsegmented trunk and a narrower, retractable section near the head, called the "introvert" or proboscis. Sipunculans have a body wall similar to that of annelids but without segmentation. When threatened, they can retract their body into a shape resembling a peanut kernel - a behaviour that has given rise to the name "peanut worm".
When this introvert is in the body cavity it is like the finger of a glove tucked in the wrong way around. Only when the worm is feeding or if disturbed does it unfold from the body cavity.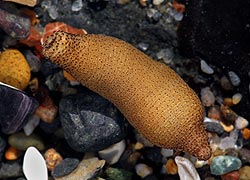 Peanut worm
Image © Ron Wolf Flickr

Their nervous system consists of a nerve ring around the oesophagus, which functions as a brain, and a single ventral nerve cord that runs down the body. Their digestive system consists of a mouth, an oesophagus, an intestine which is looped into a a double helix, and an anus. The mouth is surrounded by tentacles which are are used to collect organic detritus and probably also function as gills.
Food particles are gathered with the tentacles and then either the entire introvert is withdrawn into the trunk and the food particles eaten, or cilia on the tentacles transfer the particles along tracts into the mouth.
Sipunculans reproduce asexually and sexually, although asexual reproduction is uncommon. Fertilization takes placein the water. Some species hatch directly into the adult form, others have a larval stage, which metamorphoses into the adult after anything from a day to a month, depending on the species.