'Seaweek Touch Pool'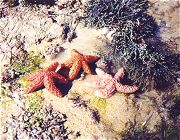 An artificial, temporary rockpool created on the beach.
What
A free touch pool offered to the public.
Where
Little Parakeet Bay, Rottnest Island.
How
The Education Officer and a Ranger went diving and collected local marine life. These were brought carefully up onto the beach and placed in a makeshift rockpool. The pool was made by digging a hole in the sand, placing a tarp inside and filling it with water. This pool became a temporary marine habitat and of course, they were returned to the ocean at the end of the day. The Education Officer was on hand at the touch pool to encourage beach goers to look, touch and question all the weird and wonderful things of the local marine environment.
Why
The ocean is a very difficult environment to visit. Many people walk along the beach and get marine life clues by what they discover washed up as flotsam and jetsam or other tracks and traces but not so many people go snorkelling or diving down into the marine habitats. A chance to look and touch provides a wonderful opportunity to create interest and highlight the diversity of the local marine life. By bringing the ocean life up on to the beach with a touch pool, anyone has a chance to understanding and appreciate more about the marine plants and animals.
To stimulate people into developing concern and responsibility for marine conservation they need to be involved in some enjoyable and practical marine experiences. A touch pool is just one example of a way to inspire awareness of and actions for, the marine environment.