Theme: Caring for our Coast

Seaweek '93 coordinator: Bob Moffatt & Glenn Tonges
20 ways to care for our Coast
1. Celebrate the sea
Find some friends and actively enjoy the sea to appreciate its benefits.
2. Don't use your toilet as a rubbish bin
String, tooth brushes, tissues, plastics and hair are difficult to treat at the sewage plant.
3. Don't pour cooking oil down the sink or drain
It ends up on the beach. Pour it in a container and put it our with the rubbish that goes to the tip or use it in your compost bin.
4. Think of the link - the sea and the sink
What ever you tip down the sink ends up at the sewage plant and then after treatment it ends up in the sea.
5. Don't water the driveway, it won't grow
All that water washes to the beach taking with it chemicals, plant clippings, dirt and oil.
6. Plant don't pave
Decrease the amount of paving and concrete around your home. Landscaping is smarter and allows water to soak into the ground slowing water runoff to the sea.
7. Become nitrate free
Plant native trees and shrubs in urban areas so that fertilizer is reduced. The sea is cleaner without it.
8. Choose phosphorus free
Look carefully at products to see if they are phosphorus free before you buy them. Encourage others to read labels when shopping.
9. Fix your car leaks
More oil ends up in the sea from urban run-off than from tanker spills! If your car drips, the oil will find its way to the ocean when it next rains.
10. Scoop the poop!
Unless you like to swim in animal poop, make sure you and your neighbour pick up the droppings.
Carry a plastic bag and use it as a pooper scooper, then put it in the nearest bin so it can be taken to the tip.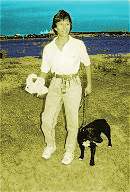 Scoop the poop!