Pollution Control
In many countries around the world, aquaculture development has often occurred with little government control. This has resulted in the loss of natural habitats especially wetlands and pollution. The impact of coastal aquaculture depends on a many physical, chemical and biological factors, especially the water flow (e.g. currents) in the area. In areas of high currents, wastes are spread out. Excess nutrients are still present, but the lower level of waste is more easily handled by the local food web.
Water movement also helps to replace water with low oxygen levels with oxygen-rich water from surrounding areas. In coastal areas some interesting new techniques are being developed. For example, in China, scallops, sea cucumbers and kelp are being farmed together. This reduces eutrophication and the use of poisonous antifouling compounds. Nutrients from scallop wastes are taken in by the kelp, antifouling compounds and herbicides can be reduced because sea cucumbers feed on organisms which foul nets and other structures. (Also see IMTA)
Pellets now contain the correct levels of nutrients needed by the fish they are used to feed and they are being designed to float for longer, rather than rapidly sink to the bottom where they become unavailable to the fish.
In contrast, shellfish farming usually results in a net removal of nutrients from the water column, and is generally considered to cause less environmental damage. Nevertheless, shellfish production can cause a build up of organic material on the seabed below as a result of particulate fallout from the shellfish or from the altered water movement around the farm.
Additionally, a net removal of nutrients from the water column may have either positive or negative repercussions for the natural system. Positive impacts are apparent in nutrient enriched areas, while negative impacts can occur if the shellfish compete with other organisms for survival (eg. seagrass).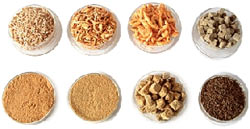 Different types of feed pellets

Organisms like barnacles, mussels, polychaete worms, bryozoans, and seaweeds can attaché themselves to many surfaces including the bottoms of boats and fish farming cages. If allowed to build up, these organisms can reduce the efficiency of the objects they are attached to. Often these surfaces are protected with anti-fouling coatings but some of the chemicals in these coatings can be toxic to marine life.