Lord Howe Island has one of the most fascinating and pristine marine environments in Australia. At the crossroads of warm currents from the north and cooler currents from the south the Island has a mix of both tropical and temperate marine life. The warm currents from the north pass over the Great Barrier Reef and sweep larvae of corals south to Lord Howe Island, to form the most southerly coral reef in the Pacific.
Other tropical creatures make the reef home; over 500 fish species have been recorded here, with tropical species conspicuous, along with schools of cooler water pelagic fish. The reef is also home to hundreds of invertebrate animals - starfish, urchins, crabs, snails, worms and slugs.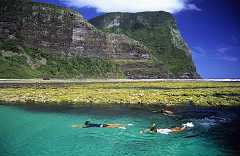 Snorkeling at Lord Howe Island

Snorkeling at Lord Howe Island


In February 2004 local operators, along with the Marine Park Manager are organising a SEAWEEK LORD HOWE ISLAND program. There will be a range of activities for the local community, schoolchildren and tourists. Activities being organised include beach and boat snorkels, scuba dives, glass bottom boat trips, guided reef walks, evening slide presentations plus displays and video screenings.

Marine Park manager Geoff Kelly says "This week will be a great chance to experience the marine world first hand; on Lord Howe Island the snorkelling and reef walking are so accessible and we will have a great program of activities for all to join in."
For visitors, There will be two SEAWEEK holiday packages available - one for scuba divers and one for non scuba divers. Optional activities of night dives and Ball's Pyramid dives will be available. As well the Island has walking tracks that take you through rainforest to thronging seabird colonies and scenic lookouts. Participants can choose from a range of accommodation on the Island, and travel from Sydney or Brisbane with QANTASLINK.


Further information and bookings are available from:
Ian Hutton , Lord Howe Island Nature Tours, 0265632447 or lhitours@bigpond.com
Brian Busteed, Howea Divers. 0265632298 or howeadivers@bigpond.com.au


Butterfly fish