Seaweek Events and Information
South Australia
At Victor Harbor for 6 weeks from early March to mid April , there will be a photo display at the Victor Harbor library, about rare, endemic and threatened marine species of South Australia. . It is being run by South Australian Conservation Research Divers. The group also has a slide show running during the SA Leafy Seadragon Festival in April 2013, and some marine species talks scheduled at regional schools, and one at the MDC. Of those related activities, only the Victor Harbor display will be running during Seaweek.
Dune Care Seminar
Tuesday March 19th
416 Seaview Rd, Henley Beach, SA
Download more information
NSW

Meet the Scientist

'The Challenge of Conserving Dugongs' with Helene Marsh, Distinguished Professor of Environmental Science, JCU
| | |
| --- | --- |
| | Dugongs are like marine koalas. Australia is their stronghold and they are culturally significant to Indigenous and non-Indigenous Australians, yet even here their status is geographically variable and controversial. Dugongs live in the coastal waters of about forty subtropical and tropical countries ranging from East Africa to Vanuatu. |
Many of these countries are amongst the poorest in the world and the income from the delicious meat of a dugong represents several months of income for a poor fisher.
Symbols of fierce conservation battles and landmark court cases involving two US Secretaries of State, dugong populations are threatened by multiple global problems. Steller's sea cow, the dugong's nearest relative and the largest mammal to exist other than the great whales, was exterminated by humans in the 18th Century, a stark reminder of the dugong's vulnerability to human threats.
Professor Helene Marsh has been studying dugongs for more than thirty years and is the senior author of a recent book published by Cambridge University Press on the ecology and conservation of the dugong and its manatee cousins. In this public seminar, Helene will compare the challenge of conserving dugongs in developed countries such as Australia with the situation in low income countries and regions where dugong conservation can be a matter of food security and cultural survival.
WHEN: Thursday 7th March
TIME:7.00 - 8.00 pm
WHERE: Reef Theatre, SEA LIFE Sydney Aquarium
COST: $10 online or SLCF members, $15 at the door. Under 12s free.
All proceeds go towards dugong conservation research.
Visit http://www.sealifeconservation.org.au/events-2/meet-the-scientist/
NSW

Seaweek Special 1: Celebrate 'Sustainable Seas!' with the Marine Discovery Centre at the 2013 Seaweek Festival on Sunday 3rd March 10am to 4pm on the Bondi Pavilion forecourt.
There will be a hands-on Touchtank of amazing rockpool animals who will inspire families to help with the 'Rockpool Rescue' clean up of Ben Buckler headland as part of Clean Up Australia Day; as well as fun marine craft activities for the kids, Sustainable Seafood demonstrations, marine info stalls, competitions and more! For more info go to www.marinediscovery.org.au or call 9300 0242. Sponsored by SAFCOL Responsibly caught Tuna (free sample cans of tuna available!).

Seaweek Special 2: 2 for1 entry into Underwater Bondi Experience for month of March! Come and see real baby sharks in large camouflaged aquaria at the world's first re-creation of an actual dive site. Experience the Virtual Reality Dive Transporter Show, then relax in the mini-cinema to discover the splendour of Underwater Bondi. Waverley, Woollahra and Randwick councils sponsor a 30% discount off unlimited annual entry passes for all their residents – a perfect wet weather option for local families!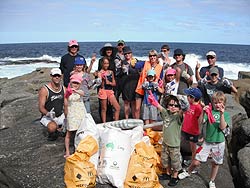 Rockpool Rescue walk we did last year –great fun AND it's
a clean up as well. We may have Venus the whale as well!!
WA
Seaweek Educators' Expo - Friday 1 March
EXPRESSIONS OF INTEREST
The Department of Fisheries is proud to host the 2013 Seaweek Educators' Expo, Western Australia's premier education experience for Seaweek – at the Naturaliste Marine Discovery Centre, Hillarys Boat Harbour. Seaweek is the Marine Education Society of Australasia's (MESA) major annual education campaign to increase understanding and appreciation of the sea and its living organisms. Seaweek will be held on the 3–9 March 2013, with the theme being –'Sustainable Seas'.

SEAWEEK 2013 AIMS TO:
• Highlight the sustainable management of Australia's marine environment;
• Identify factors that threaten the sustainability of marine and coastal ecosystems;
• Facilitate the communication of sustainable marine management projects to the education community;
• Initiate interest and actions for supporting sustainable marine management that help us learn more about and contribute towards the sustainability of our marine and coastal environments; and
• Provide schools with educational resources available on the MESA website for school's classroom based activities.
YOUR ADVENTURE BEGINS…
Seaweek Educators Expo is a fantastic learning and professional development opportunity; you can network with like-minded educators, meet knowledgeable marine and coastal educators and find out about the latest in marine education in WA. You will be able to choose from a range of hands-on field laboratory and
class activities over the day.
WHO SHOULD ATTEND?
Seaweek Educators' Expo is suitable for Primary and Secondary teachers, pre service teachers, environmental educators and anyone interested in learning more about marine education in Western Australia.
WHAT TO LOOK OUT FOR AT SEAWEEK EDUCATORS' EXPO 2013
Marine Biology Cruise – One of the highlights of Seaweek Educators Expo 2013 will be the new marine biology cruise. On board you will take part in the 'Science of Sampling' program which explores a range of sampling techniques used for plankton, abalone, finfish and rock lobster.
You will also get to deploy a BRUV (Baited Remote Underwater Video) to visually assess the underwater diversity within Marmion Marine Park. For those who like to get wet, there will be an opportunity to go snorkelling at the end of the cruise.
Afternoon concurrent sessions
Afternoon concurrent sessions will see more activities from the Naturaliste Marine Discovery Centre, Marine WATER's, Ocean Reef Senior High School, Coastcare, Rottnest Island Authority and AQWA.
REGISTRATION
Dive into Seaweek Educators' Expo by registering your interest with the Department of Fisheries via email. A program of events and registration brochure will be sent to you in early 2013.
For more information or to register your interest for this great professional learning opportunity contact::
Tanya Porter
Exhibits and Events Coordinator
Naturaliste Marine Discovery Centre
Department of Fisheries
Phone: (08) 9203 0124
Email: tanya.porter@fish.wa.gov.au