Kelp Forests
The information presented here has been written by staff
at the Marine Discovery Centre, Queenscliff, Victoria.
1. Distribution
Kelp forests are a feature of many cool water environments around the world and Australia supports some excellent examples of these forests of the sea. Kelp forests are also a feature of the west coast of North and South America, the north west Pacific including Korea, New Zealand, South Africa, and many of the islands in the Southern Ocean.
Kelp forests usually grow on subtidal rocky reefs although some kelps are able to grow on smaller scattered rocks. In general they grow on reefs in waters to a maximum of around 30 metres depth, although most are found in shallower waters. These areas can also extend onto the shore where a rock platform is in the intertidal area with larger kelps only growing up to the low tide mark.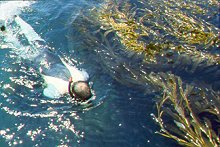 Snorkelling in a forest of Giant String Kelp.