The establishment of Victoria's system of Marine National Parks and Sanctuaries now fully protects 5.3% of Victoria's coastal waters, compared to 0.05% previously. Victoria's new Marine National Park's system will help ensure the protection of its unique and diverse underwater environments through a representative system similar to the way of protection in terrestrial national parks.
A wide diversity of habitats has been protected through the establishment of Marine National Parks and Marine Sanctuaries including kelp forests sponge gardens, sandy plains, saltmarshes and mangroves, mudflats and seagrass meadows.
Marine National Parks have a wide range of uses, benefits and values, including scientific research, education, conservation, recreation and tourism, and fisheries management. Recreational activities that are compatible with long term marine conservation will be encouraged.
The Marine National Parks and Marine Sanctuaries are highly protected areas that do not allow any forms of extractive activity such as mining or fishing, and are to be managed to ensure protection of natural and cultural values of these areas.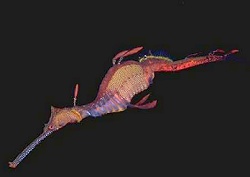 Victoria's marine state emblem, the Weedy Seadragon,
can be found in the new Marine National Parks
(Photo: Bill Boyle)