Seaweek is a celebration of our beautiful and fascinating marine environment held all around Australia in March. Each year MESA raises community awareness and appreciation of the sea through fun and educational activities and adventures.
Seaweek 2004, our fourth on the Far South Coast, is jointly organised by the Sapphire Coast Marine Society and the Eden Whale and Marine Discovery Centre Group with support from the businesses and organisations listed below:
* National Parks and Wildlife Service
* Fisheries Department of NSW
* Sapphire Community Centre
* Merimbula Aquarium and Restaurant
* Sapphire Coast Tourism
* Eden Fisherman's Club
* Pambula Surf Life Saving Club
* Merimbula Marina and 'True Blue'
* 'Cat Balou' cruises, Eden
* Merimbula Divers' Lodge
* Dolphin Cove Dive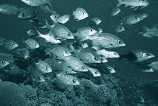 Bar Beach Merimbula, Vicki Wootten.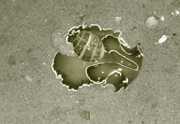 Bubble Shell, Merimbul Lake, Debbie Lange