Sharks occur in all the coastal waters and estuarine habitats around Australia's coast. As the population increases many more people are entering coastal waters.. In the last 50 years, there have been only 61 human deaths in Australian waters from shark attack.
Some years there are none, other years there have been up to three in a year, but the average is around one per year. Each year thousands of swimming days take place on our beaches, harbours and rivers and the number is increasing with both increasing population and tourism.
The Australian Shark Attack File
In 1984 the Australian Shark Attack File (ASAF) was established to find out the actual number of shark attacks in Australian waters, and to help researchers understand and record the behaviours of sharks where close contact with humans occurs.
As part of a world-wide study into shark behaviour, data from the ASAF may eventually help identify common factors relating to the cause of attacks on humans.
The ASAF database is held at Taronga Zoo, Sydney, and is associated with the International Shark Attack File that is coordinated by the American Elasmobranch Society. Information on shark attacks can be accessed at www.zoo.nsw.gov.au/content/view.asp?id=126.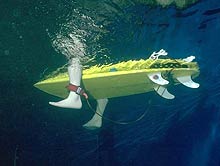 Sharks view of a board rider

Shark attacks on humans
According to the ASAF, there have been 61 recorded human deaths due to shark attack in the last 50 years (up to December 2004). Of these, 22 have occurred in Queensland, 16 in South Australia, 9 in New South Wales, 7 in Western Australia, 4 in Tasmania, and 3 in Victoria (Table 1 (below)). No fatal attacks have been recorded in the Northern Territory in that time period.
State
Total attacks
Fatal attacks
Last Fatal attack
NSW
238
72
1993 Byron Bay
QLD
221
71
2004 Opal Reef
WA
70
12
2004 Gracetown
SA
46
20
2004 West Beach
VIC
32
7
1977 Mornington Peninsula
TAS
21
5
1993 Tenth Island, Georgetown
NT
11
3
1938 Bathurst Island
639
190
(as of December 2004)

Table 1. Information from the Australian Shark Attack File records of reported shark/human interactions since 1791 (over a 213 year period)