Interviews with shark scientists
MESA councillor, Jacqui Foster, interviewed a number of shark scientists from around Australia. Read their answers to Jacqui's "Twenty Questions". The scientists involved are:
Rachel Robbins, Shark Researcher
Until recently, Rachel was employed at the Fox Shark Research Foundation.
read the interview ...
Kate Rodda, Senior Research Scientist
Kate is employed at the South Australian Research and Development Institute (SARDI).
read the interview ...
Stirling Peverell, Shark Researcher
Stirling is employed at th Queensland Department of Primary Industries and Fisheries.
read the interview ...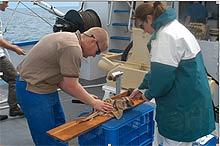 Kate Rodda and Jeremy measuring and
tagging a small Port Jackson shark.
Image © Kate Rodda