There are Responsible Reef Practices for almost all of the activities on the Reef. These are common sense guidelines to help operators, tourists, visitors and locals in their day-to-day activities.
See: www.tourismoperators.reefhq.com.au/highstandard/practices/index.html
Take the time to learn how you can do the best you can when visiting the Great Barrier Reef, and use this common sense guideline to design a set for your local area or a particular area of your choice for whatever activity you are undertaking.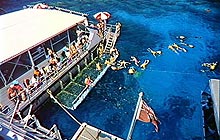 Snorkelling from a pontoon on the GBR