Seaweek 2006 will showcase:
101 ways to lighten your eco footprint.
An eCard competition with great prizes!
A collaboration of teachers' resources used to teach and facilitate sustainable practices and aligned with a week long program to celebrate each day of Seaweek 2006 with a special theme.
An online gallery of case studies of students and community using sustainable practices to lighten their footprint.
PLUS MANY MANY MORE surprises and resources!

Seaweek Events
Every year we invite MESA members and others to register their Seaweek Events.
Find out more ....
"Calculate your eco footprint"
The Marine Education Society of Australasia invites ALL Australians during Sea week 06 to "Calculate your eco footprint".
Find out more ....
Make a pledge
Making your commitment helps make it happen. We encourage you and your students to go online and "Make a pledge" in 2006 to acknowledge how they intend to do things more sustainably for themselves and therefore for a more sustainable future.
Make your pledge ....
Book a free, live webcast
The most exciting events happening during Seaweek 2006 are some live webcasts for schools, where students can talk with marine science experts!
These broadcasts will include a variety of interactive tools used for long-distance learning — so any Australian school, anywhere can join in!
Hurry, some sessions are close to full!
Book a webcast ....
Bag Smart eCard Competition
Design an eCard based on the theme "Plastics in our oceans and waterways" and you could win a $50 book voucher, $150 cash and a class set of educational books to the value of $500.
There are two categories for entries - Years 3 to 6 and Years 7 to 9 students in Australian schools.
Find out more ....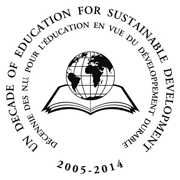 In recognition of the UNESCO "Decade of Education for Sustainable Development", Seaweek 2006 will be a celebration of the many ways we can all learn to live more sustainably for the future.
more ..
"A day at the beach"
Our online Seaweek board game, for one or two players, is now online. Enjoy the game and learn about sustainable actions!
Play the game ....