Sunday: Clean up Australia Day
"Clean up our act"

"Footprints for our future" the choices we make is the Marine Education Society's annual, national, educational campaign whose aim is to acknowledge our partners and colleagues involved in Marine Environmental Education and further acknowledge actions for the preservation and sustainable use of the marine environment.
MESA, through Seaweek 2006, is committed to the United Nations "Decade of Education for Sustainable Development" and aims to raise awareness for the following key themes:
If you live near the coast or even if your school is thousands of kilometres from the sea, learning to live, work and play in a sustainable way will help to protect and preserve many of our precious land and marine environments.

Individual footprints i.e. individual actions make up the total picture of a global footprint. What you do does matter. What you choose to do more sustainably will make for a better future.

By participating in Clean Up Australia day on Sunday March 5 you will be reminded just how heavy how footprint is. Debris and harmful substances that passes from the land into the waterways and oceans is just one of the many ongoing monumental problems we face.
Some people say sustainability is too complicated. It is not really – it is quite simple. There is only one planet. But today we need about 1.2 planets, indicating that we use resources more rapidly than what nature can renew them. Hence we are running down our planet. So what can you do? Let's try to make 2006 a collective year of real change and an absolute commitment to sustainability and a lighter footprint.
The Marine Education Society of Australasia encourages each
Australian to get involved in Seaweek 2006 March 5-11.
www.cleanup.com.au/Main.asp?RequestType=Homepage&SubRequestType=Internet
Thanks to Harry Breidahl (Nautilus Educational) for the use of the images on the right.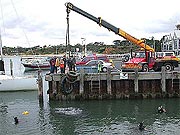 A crane was used to lift larger loads
out of the water

Clean-up Australia Day 2003. Heaps of tyres were dragged out from the water around Mornington Harbour. Submerged tyres offer a great home for marine life and it is important that animals be rescued from them before they are taken away!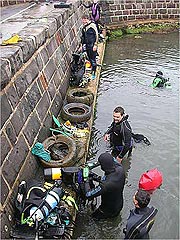 Divers and some old tiers at Mornington