What you will need:
Some tongs & long sticks
Gum boots
A note book
A map of the local run-off catchment or watershed
Your job, should you choose to accept it, is to take note of the kinds of rubbish observed. Record the numbers of each kind of litter using tongs.
Collate your information.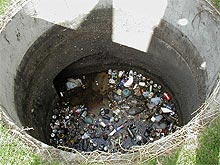 A Gross Pollutant Trap
Looking at the list of some pollutants that can contaminate the ocean choose one you have observed. Consider what set of circumstances might cause that pollutant find its way into the sea.
Primary students:
Prepare a chart of the pollutants you have observed and illustrate it.
Secondary students:
Prepare a graph of the pollutants observed. Did the GPT collect all of the pollutants?
Develop a strategy for educating, regulating and then enforcing stormwater quality improvements.
Research and write either a media release for a newspaper or design a public service announcement to be aired on television.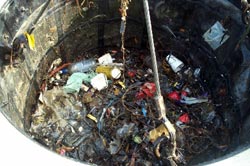 Contents of a Gross Pollutant Trap in the
City of Casey, Victoria