An 'art exhibit' was held at the Dickson Public Library for Seaweek 2001. The art exhibit, which focused on the theme 'people and the sea' , was compiled by students from the Secondary Introductory English Centre (SIEC) under the guidance of teachers Gaye Jackson and Inès Flòrez, in association with Dickson Library staff Mollie Bialkowski (Librarian -Children's/Young Adult Services) and Janis Dengate (Customer Service Officer).
Schools and the general public were able to view the art work, view and/or borrow the marine books on display, and obtain a Seaweek information brochure and complimentary poster.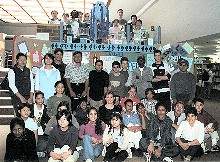 Seaweek art exhibit at Dickson Library: Gaye Jackson with her SIEC students.