We know now that all living species of sharks and rays have a cartilaginous skeleton. However, it appears that the first sharks ever to have lived did originate from fish with bone in their skeleton. Bone was probably lost during the early evolution of sharks to reduce body weight and improve bouyancy.
It is thought that the earliest sharks appeared on Earth more than 400 million years ago. About 340 million years ago, the group of chimaeras appeared and the earliest rays appeared about 200 million years after the first sharks. These days there are nearly 400 living species of sharks, nearly 600 living ray species and 33 described living species of chimaeras worldwide. More species are likely to be discovered as the deep waters of the world's oceans are better explored.
Cartilaginous fish occur in a range of habitats. They are present from near shore to the deep abyss, from the equator to the poles, and a few species are found in freshwater and hypersaline waters. They are most abundant in tropical and temperate marine waters.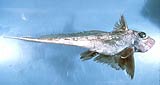 Image © Ken Hoppen Photography
Shark, ray or chimaera?
Click here to view a key
for classifying sharks,
rays and chimaeras
Sharks
Sharks are mostly fusiform (bullet-shaped) in shape, but some have a flattened ray-like shape. They have mostly five pairs of gill openings, but some have six or seven. Most have two dorsal fins, but a few species have only one. The dorsal fins of some groups of sharks have spines on the leading edges. Sharks have a well-developed caudal fin (tail) for swimming.
Sharks form two broad groups that can be divided into nine orders and thirty different families. Those in the group called Galeomorphii possess an anal fin and form four orders, and those in the group called Squalimorphii lack an anal fin and form five orders.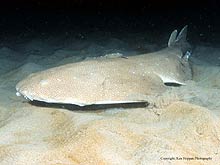 Australian angle shark (© Ken Hoppen, oceannotions@primus.com.au)