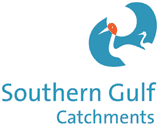 About Us
Southern Gulf Catchments is a community-based organisation tasked with strategic and sustainable natural resource management (NRM) planning and implementation in the southern Gulf of Carpentaria region.
This area covers 195,000 square kilometres and encompasses the catchments of the Flinders, Cloncurry, Leichhardt, Gregory, and Nicholson Rivers, Settlement Creek and Morning Inlet.


Click here for a larger
map of the region.