MESA NSW representative, Chris Preston, organised the first NSW event for 2008. 16 marine biology university students from Je-Ju University in South Korea were led by Chris to some of the prime snorkelling and marine rock platform sites on the Central Coast of NSW. The students had wanted to see Gondwanan marine flora and fauna so who better to contact than the closest MESA representative?
The day was a huge success and was directly supported by MESA, Sydney University, Sydney Olympic Park Authority and Terrigal Dive. The recently commenced Central Coast Marine Discovery Centre also expressed interest in assisting in future events once their premises are built.
During the day students snorkelled, experienced live urchins walking across their bare hands and saw many of our indigenous species of fish and algae. The take-home message in the presentation was "how do we preserve all this for future generations". In an ocean where so much is just so tasty, we need to place limits on our consumption.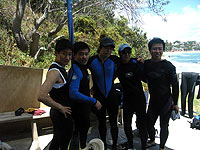 South Korean students pose for the
camera before entering the water.