The Seaweek theme of Extinction – a Saw Point featured throughout the program with a focus on threatened marine and coastal species and communities.
Activities relating to the Seaweek theme included:
Family science night at Barwon Heads Primary School (11/3) focussed on wetlands and rare and threatened plant communities and birds
Community Seminar (12/3) – a full day program focussed on wetlands including a morning of presentations on wetland values and shorebirds, and field trips to visit local sites included within the Western Shoreline Port Phillip and Bellarine Peninsula Ramsar plan
Pole Sculptures (16/3) – exhibiting on the Sunday of FOTS local artists developed sculptures that interpreted the Seaweek theme of Extinction - a Saw Point with outstanding pieces that highlighted this issue
Festival Day (16./3) – a large community festival which included marine and coastal interpretation activities, displays, and events which attracted over 4,000 participants
The FOTS is coordinated by a committee which meets throughout the year to plan and coordinates the diverse program which not only includes the environment focus but also a broad range of other activities including music, photography, art shows, and much more. Financial support for the events, which are at no cost to participants, come from the sale of ducks for the annual duck race on the river, and from a variety of local and state government grants, and local business support.
THE FOTS is a great example of community participation in Seaweek and provides a good model for other communities to consider in developing a local response to Seaweek. More information about the festival can be found on the Barwon Heads website at www.barwonheads.net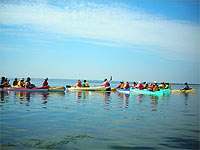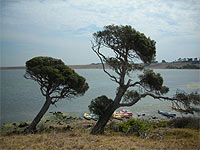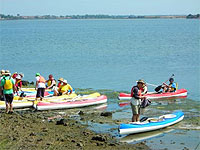 Community Seminar and Field Trip – Visit
to Lake Connewarre (Ramsar Site) bycanoe