Seaweek 2008 in Victoria continues to be celebrated by schools all over the state with the ongoing Seaweek Banner competition. Open to both Primary and Secondary Students, the competition is calling upon the creative talents of school students to highlight this year's theme, "Extinction a saw point". Some of the banners already received have focused on the Sawfish, a charismatic, yet critically endangered animal from Northern Australia. Many other banners showcase the threatened fauna of Victoria, while others depict the processes that currently harm our wonderful and diverse native sea creatures.
Entries are currently being worked upon in school across Australia, which will be displayed as part of a World Oceans Day banner display in June. Entries are welcome from schools all over the country, but only entries from Victorian schools will be eligible to win due to the nature of the prizes. Banners will be accepted until the 9th of June, the day after World's Oceans Day. Prizes for winning banners from Victorian Schools include free trips to the Marine Discovery Centre, A trip to a Parks Victoria Education centre and membership to the Parks Victoria Ranger Roo program.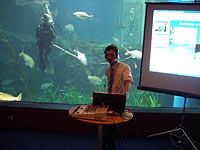 "Grey-Nurse Sharks: on the Brink"
An awards ceremony will be held on the 16th of June at Ricketts Point to celebrate not only Seaweek, but also World Oceans Day. Ricketts Point is a highly relevant venue for this ceremony, as it is a well loved area used widely by Victorians for fun and recreation, but is also home to many of our wonderful sea creatures where they are protected by a Marine National Park. The awards ceremony will be attended by Ranger Roo and other special guests.
This competition was launched during Seaweek at the live / on-line presentation "Grey-Nurse Sharks: on the Brink", held at the Melbourne Aquarium. The presentation involved talks from Melbourne Girls' College students Sarah, Sian, Lucinda and Ella, Melbourne Aquarium Education officer George Cunningham, Parks Victoria Marine expert Mark Rodrigue, MESA representative Andrew Vance, and a man who can talk underwater and across the internet, Garret Drago a diver at the Melbourne Aquarium.
Members of the public, school students present in person or over the internet were able to ask the diver questions and found out amazing features of both the Green Saw Fish and the Grey Nurse Shark, but also the sad plight of these majestic animals.
Parks Victoria is the proud sponsor of the Banner Competition and will host the awards ceremony at Ricketts Point. For more information about the competition or to request a free blank banner and entry form click here.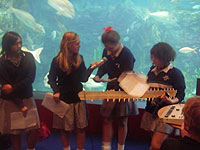 Seaweek at Melbourne Aquarium