As Australians we all face the daily challenge of changing the way we live our lives by making better choices towards a more sustainable future for us all as a part of the global community. In light of the threats of climate change this Seaweek 2009 is a timely reminder that this is a "A climate for change" and "Education and Action" is the way so many of our schools and community members are engaged in practical hands on strategies to minimise our collective footprint and make better use of our limited finite resources.
The members of MESA together with our sponsors and large network of teachers, educators, education centres and proactive community groups will bring together this Seaweek a compilation of great resources to highlight aspects of our unique biodiversity, the threats to our unique coastal and marine ecosystems and the actions in place to regenerate and rehabilitate and in turn reduce the stresses placed on the environment.
Objectives
The objectives of Seaweek 2009 A climate for change "Education and Action" are to:
increase awareness of what we all can do at home and at school to tackle climate change and cut greenhouse emissions;
introduce others to the coastal & marine environment as a complex and biologically diverse system that contains critical habitats that are under added threats from sea level rise, more intense storms and more acidic seawater;
Enable others to appreciate that when a species of plant or animal is at risk, other plants and animals that depend on it are also likely to be at risk;
Showcase various causes and impacts of climate change. These include poor environmental practises and habitat loss; and
Focus on ways that people can help tackle climate change, cut emissions and protect and preserve biodiversity, coastal and marine landscapes and threatened species.
Key messages
The Seaweek 2009 program has partnered with States and
Territories to support educating children, teachers and communities
about the importance of environmentally sustainable practices in their
region and Australian marine and coastal environments.
Through this partnership, schools and communities will benefit
from having access to resources and knowledge from the MESA website
www.mesa.edu.au/seaweek09 to help better protect the marine and coastal
environment.
The Seaweek 2009 program highlights MESA's commitment to
environmental conservation and genuinely cares about the environment and
helping students and communities to live sustainably.
Seaweek 2009 enables teachers, students and members of the
community to be environmentally active and work together as committed
"agents of change".
Marine Discovery Centres and Aquaria can access their online community from the website and get better access to resources and information about marine and coastal education throughout Australia.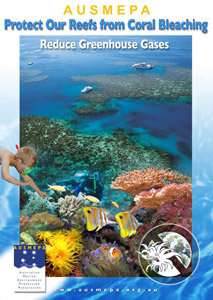 AUSMEPA has produced a poster
related to Climate Change
For free copies of this poster
please email: info@ausmepa.org.au
The AUSMEPA "Effects of Climate Change on Coral Bleaching" educational program is designed for middle years students. The website program shows students why coral reefs are being damaged by increases in sea temperatures, and how this can be linked to climate change. The program brings together all the science and conservation issues of these current environmental topics.
The educational program contains a complete unit of work including teacher's resources, curriculum materials and student activity sheets.
Resources available
A to Z of Australian Marine Life - This compilation of Marine Creatures is a small taste of our amazing Australian marine biodiversity most of which in some way may be effected by climate change through Ocean acidification and Habitat loss as examples.
more ...
Seaweek 2009 Gallery - The Photo Gallery is a compilation of several MESA members' contributions and has been provided for use for a range of educational possibilities.
more ..
Teaching ideas for Seaweek 2009 - The units are your online curriculum resources for K-10 classes. The units offer a range of ideas and activities for the early, primary, and middle years of schooling, There are also teaching ideas associated with the A to Z of Australian Marine Life and the Seaweek 2009 Gallery.
more ..
Background Information - There are two sections available:
1 Climate change and the marine environment
2 Effect of climate change on marine ecosystems and organisms
Action Projects - MESA membership is about active involvement in education and understanding of marine environments. MESA members regularly assist in projects that have national and global implications for better understanding of environments, global warming and other big issues.
more ..
Links - to other sources of information on the web
more ..
Other resources
Energy conservation ideas
Water conservation ideas
Glossary - A glossary of climate change terms
more ..
Seaweek Posters
Click on a poster to download as a pdf
Posters are about 42 cm x 30 cm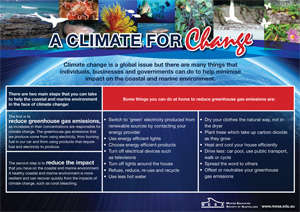 Climate change is a global issue but there are many things that
individuals, businesses and governments can do to help minimise
impact on the coastal and marine environment.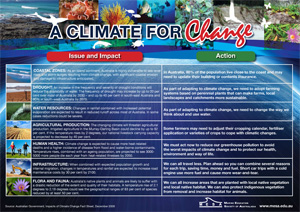 This poster lists Issues and Impacts and suggests possible actions