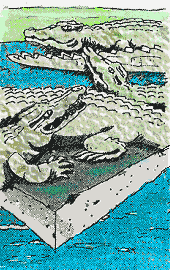 Young crocs in grow-out pool
Skins are removed then they are rubbed, salted and packed. Most of the skins are sold overseas to Europe and Asia. A croc skin can be worth anywhere between $300 and $800.
Some skins are tanned in Australia and the dyed skins are returned to the Cairns Croc Farm. Here they are made into handbags, wallets, belts, key rings, head bands, pens, shoes, boots and watchbands.
Crocodile meat has been eaten by some Aboriginal people for a long time. Today there is also a huge demand for croc meat from restaurants. It sells for about $20 per kilo. In this way, the croc farm is no different from a cattle or sheep farm.

Croc products