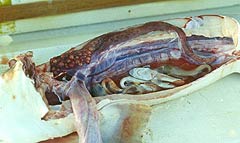 School shark
(Galeorhinus galeus) in utero
(© Terence I. Walker)
Sharks and rays have separate sexes for reproduction. They can be either egg laying or live bearing, and there are four different modes of reproduction for live-bearing conditions, depending on the source of nutrition for the developing embryo (yolk, uterine milk, other eggs/siblings or placenta).
The number of eggs laid or number of young born varies widely with species and size of the mother. The gestation period can vary from several months to well over one year.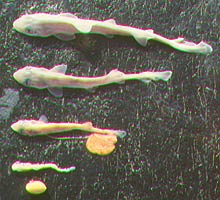 Developmental stages of the gummy shark (Mustelus antarcticus) – egg to juvenile
(© Terence I. Walker)