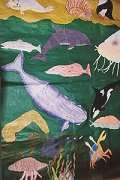 Brauer College Victoria
The cool waters of southern
Australia support a wide diversity of animals and plants including the
southern right whales and orcas.
More images ..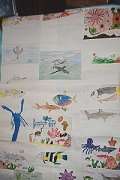 Malabar PS NSW
Many animals and plants that make up the marine environment are small and difficult to observe.
Students at Malabar have discovered a wealth of smaller animals and plants and represented these in the picture displayed here.
More images ..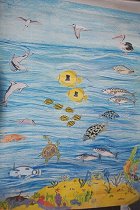 Cronulla High School NSW
Cronulla HS students have discovered a rich diversity of fish species as well as lots of colourful invertebrates found along the NSW central coast.
In this image a mixture of tropical and temperate animals can be seen. Many warm water larvae are transported down the eastern seaboard by the East Australian current.
More images ..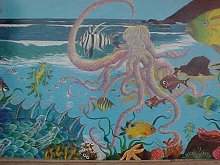 Hallett Cove School (SA)
The original mural will be officially "opened" by the Premier of South Australia, Hon John Olsen, 14th April (Friday of Seaweek) when he visits Hallett Cove School.
More images ..
Bellarine Secondary College Vic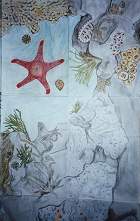 They conducted a field trip to their local rock platform at Barwon Heads.
More images ..
Torquay Primary School Vic
The students spray painted their backgound before placing selected marine plants and animals in appropriate locations.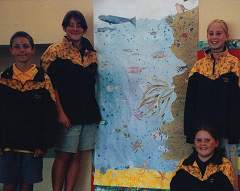 More images ..