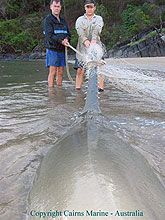 Cairns Marine special operations manager Geoff Oke and Stirling Peverell are untangling the mesh from the rostrum of a 5.4m mature female green sawfish cought off Yorkey Knob, Cairns. The sawfish was caught and reported to Cairns Marine by a local commercial fisher. The sawfish was tagged and released unharmed.
It was the first record of capture of this species and size on the QLD east coast in 30 years.

Other than habitat loss, the greatest threat to sawfish is entanglement in fishing nets as their rostrum is easily tangled in nets. This includes marine trawling nets and they have also occasionally been found tangled in shark nets off the Queensland coast.
When a sawfish swims into a net it will probably become entangled with netting around its rostrum. They then thrash their rostrum around to escape and this struggle can lead to the sawfish becoming more tangled. If the sawfish is entangled underwater and is unable to swim, it is likely to drown as it cannot move water over its gills.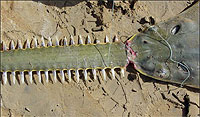 This sawfish has become tangled in some
thrown away fishing line. You can see
how it has damaged the rostrum.