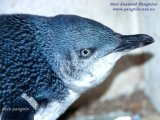 From the New Zealand
Penguins site
Penguins
Pete and Barb's Penguin Pages
http://www.adelie.pwp.blueyonder.co.uk/ndx.html
Detailed info on each species covering Distinguishing features; Sub-species; Height & Weight; Breeding locations; Nesting Behaviour; Principal Diet; Alternative names; Further Information.
There is also info on Breeding Behaviour, Threats, the Treasure Oil Spill, Life Cycle of Penguins, Evolution, Bibliography, links, penguin FAQS, around 200 photos and more. For: Primary to Adult
Seaworld
http://www.seaworld.org/infobooks/Penguins/home.html
Has detailed information covering the following: Scientific Classification; Distribution and Habitat; Physical Characteristics; Sexual Dimorphism; Senses; Adaptations for an Aquatic Environment; Behavior; Diet and Eating Habits; Reproduction; Hatching and Care of Chicks; Communication; Longevity and Causes of Death; Conservation; Appendix: penguin species; References and Bibliography; Books for Young Readers. For: Primary to Adult
The Penguin Page
http://home.capu.net/~kwelch/pp/
Biology, Species, Evolution, Behaviour, Ecology, Deconstructing Penguin Myths, a FAQ with over 40 questions answered.
A highly recommended site with very detailed information, some of which is quite technical. For: Middle Sec to Adult