Harmful Marine Debris
Seabirds and marine animals are at risk from our rubbish. This rubbish that litters our coasts and oceans is called marine debris There are two main sources of marine debris:
Land sourced eg beach litter and rubbish washed or blown into the sea via run-off and stormwater drains.
Ocean sourced eg fishing gear and rubbish tossed over the sides of boats and ships.
Our plastics become harmful marine debris as they float about the ocean. Plastic bags, bottles, synthetic ropes and nets trap, entangle, choke, starve, drown and are ingested by marine animals. Marine debris is serious hazard for seabirds and animals.
There is a new government initiative that now makes harmful marine debris a 'key threatening process'.
To find out more about this and harmful marine debris download a Harmful Marine Debris fact sheet.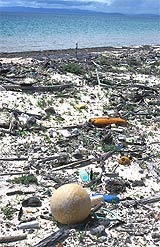 Photograph courtesy GBRMPA