There are at least 800 species of echinoderm on the Great Barrier Reef, including many that are rare. Types of echinoderms include sea stars, sea cucumbers, sea urchins and crinoids.

Echinoderms are among the strangest of invertebrate animals. They have no real head or tail end. Instead their bodies are built on a radial pattern, often in a form with five sides. They have three main characteristics including a symmetrical five-part body plan, tube feet and a skeleton of plates. All echinoderms are marine animals. Their amazing water-vascular system, consisting of water-filled tubes ending in numerous finger-like projections (tube feet) that stick out through the skin, is their most interesting feature.

Tube feet, on the end of the suckers are used for movement. The water-vascular system works on water pressure, creating a network of tube feet that look like hundreds of tiny, hydraulically operated legs. The name echinoderm, meaning spiny skin, relates to their outer surface that is covered with limestone plates that are often formed into spines. The variations of shapes range from sausage and star shapes to a ball of spikes.

Echinoderms occupy all habitats including coral reefs, mangroves, seagrass and soft-bottom areas. Many echinoderms are able to undergo asexual reproduction when parts of their bodies break off and grow. Sexual reproduction involves mass spawning. Echinoderms exhibit a wide range of feeding techniques including suspension feeders, deposit feeders, carnivores, browsers and parasites. Some species use modified arms to filter food from the water. Others, like sea urchins, use their tooth-bearing jaw structure known as 'Aristotle's lantern' to scrape algae from rocks.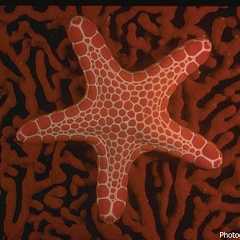 Seastar from our southern waters.
Courtesy Parks Victoria
Interesting Fact
Frightened sea cucumbers can expel their entire stomach through their posterior to distract predators. The sea cucumbers' intestines re-grow after about 9 days.