The Marine and Freshwater Resources Institute (MAFRI) is Victoria's primary research institute specialising in the natural resources of the marine and inland systems that underpin Victoria's fisheries. The Institute also contributes scientific information to fishing industries and for natural resources management nationally and internationally including:

Visit the Information Notes Series: http://www.dpi.vic.gov.au/notes/ Here you will find easy to read "Information Sheets" on a range of topics relating to Fisheries & Aquaculture, as well as Flora and Fauna, Forests, Landcare, Land for Wildlife, Minerals and Agriculture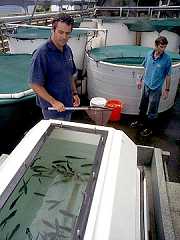 Fish aquaculture research tanks at PIRVic, Department of Primary Industries, Queenscliff. Photo courtesy MAFRI.