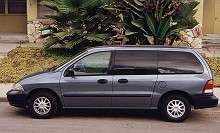 The fabulous Ford Windstay

After a great weekend with our Long Beach hosts, we picked-up a hire car. At the start of the trip the seven-seat Ford Windstay had enough room for five travellers and our luggage.
By the end of the trip we had accumulated so much extra luggage that there was barely room to move. We started by heading south to San Deigo along the coast via places such as Huntington Beach.
We spent the afternoon at Stephen Birch Aquarium at Scripps Institute. The aquarium was great and Anna found that the bookshop was too good to resist. That evening we visited Rick and Joyce Tullis (Jody Plecas's mum and dad)
Next 4th of July in San Diego ..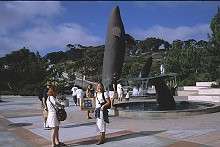 Buying books at Stephen Birch Aquarium