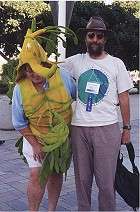 Harry and Leah (cunningly disguised
as a leafy seadragon)
I certainly gained a great deal from attending the 2000 NMEA Conference and hope to be able to go to the next NMEA conference.
This conference is to be held in Canada - the University of Victoria on Vancouver Island, British Columbia from July 17 to 21, 2001.
NMEA2001: A Water Odyssey
- Understanding our Sense of Place
Over 400 North American marine and aquatic educators from K-12 schools, universities, governmental agencies, non-profit organizations, aquariums, zoos and private industry are expected to attend. Call for papers are being requested, with a deadline of March 1, 2001. Information about the conference can be found at: http://www.uvcs.uvic.ca/conf/nmea2001/
If you are interested in attending and spending two or three weeks travelling around north-west USA (Oregon and Washington) and British Columbia email Harry - no guarantees at this stage but I may well put together a similar package for 2001.
Sea exChange ..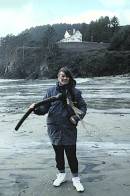 July Swartz on the Oregon coast,
February 1990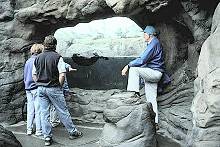 Oregon Coast Aquarium, Newport, Oregon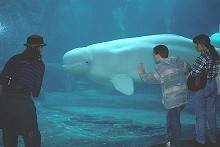 Beluga Whales at Vancouver Aquarium