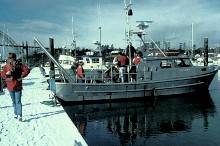 Marine science in the snow - Newport, Oregon, February 1990

The idea behind Sea exChange is to develop a program that allows marine educators in North America and Australia (and possibly New Zealand) to establish partnerships by travelling to work with each other.
The time spent overseas would be relatively brief - each partner would travel to work with his or her colleague for up to four weeks. However, the program would be designed to ensure that visits would be start of long-term partnerships.
Any comments or contributions would be appreciated - email to Harry Breidahl at deepsea@alphalink.com.au
Come back to the MESA web site for Sea exChange updates
More on Sea exChange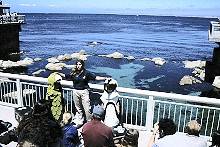 Volunteers putting a show at
Monterey Bay Aquarium, July 2000