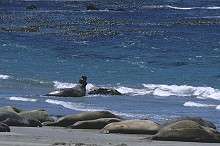 Ano Nuevo Reserve (Northern Elephant Seals) www.anonuevo.org
As well as all the marine centres we visited, the scenery was spectacular especially the Big Sur coast, Pacific Grove and Pebble Beach, Ano Nuevo State Reserve and its Northern Elephant Seals and Bodega Bay.
Navigation to places such as Ano Nuevo was greatly aided by the use of Yahoo maps downloaded from the web http://maps.yahoo.com. Travelling as a group allowed us to shared the costs of car hire and we reduced accommodation costs by staying in hostels (go to www.hiayh.org) wherever possible.
Two highlights were at Pigeon Point Lighthouse and Point Montara Lighthouse. Both these charming hostels had hot tubs by the sea.
Next The 2000 NMEA conference ..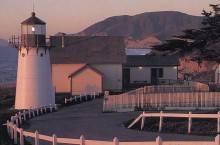 Point Montara Lighthouse, nice place to stay