Form: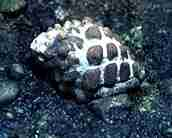 The Mulberry Whelk is a very easily identified shell with its spiral rows of heavy, rounded nodules, which give this shell its very distinctive "mulberry" appearance.
It is more-or-less cone shaped on each end (biconic), but its low spire is just longer than the aperture length. It has a smooth and fairly straight columella.
Colour:
The shell is whitish-grey with very dark purple to black coloured tubercles, adding to its "mulberry-like" appearance. The outer lip yellowish. Deep inside the shell is blue-white, with a white columella.
Distribution:

The Mulberry Whelk ranges from central Queensland to southern New South Wales.
Habitat:
It is abundant at most levels of of a rocky ocean shore, being especially so near limpets and surf-barnacles, upon which it preys.
It also is common in estuaries, where it preys on oysters. Here it is known as the Black Oyster Borer and is a hated pest of Oyster Farmers.
Adults shelter in crevices, while juveniles can be found under rock debris.
Biology: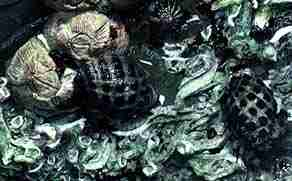 The Mulberry Whelk, or Black Oyster Borer preys constantly on other molluscs and barnacles.
It is able to bore a neat hole into their shell, and use its rasping tongue which is called a radula to cut up the animal and suck out the pieces. I measured one medium-sized Mulberry Whelk's radula at 8 cm long.
It is believed that the Mulberry Whelk is able to use a sulphuric acid from its salivary glands to dissolve and bore its way through the prey's limy shell. It is believed that this may only take two high tides.
---
References:
Bennett, I. (1987) W.J. Dakin's classic study: Australian Seashores. p. 291, Angus & Robertson, Sydney.
Davey, K. (1998) A Photographic Guide to Seashore Life of Australia. p.114, New Holland, Sydney.
Edgar, G.J. (1997) Australian Marine Life: the plants and animals of temperate waters. p.259, Reed Books, Kew.
Quinn, G.P., Wescott, G.C. & Synnot, R.N. (1992) Life on the Rocky Shores of South-Eastern Australia: an illustrated field guide. p.50, Victorian National Parks Association, Melbourne.
Underwood, A.J. & Chapman, M.G. (1993) Seashores: a beachcomber's guide. p.42, New South Wales University Press, Sydney.
Wilson, B.R. & Gillett, K. (1979) A field guide to Australian Shells: Prosobranch Gastropods. p.156, A.H. & A.W. Reed, Sydney